The Team
Who's who at The Prop House...
The Prop House team is a group of talented individuals who work together to design and create both the imaginable and unimaginable for your event. Led by Jano Dawes who started the company in 1995, our team is made up of designers, stylists, artisans, installers, riggers and visual merchandisers who work tirelessly to ensure the success of your event. It is our pleasure to witness an event come to life and know that your guests are having the time of their lives.
Meet The Prop House team
We asked the team to share a favourite Prop House moment…
---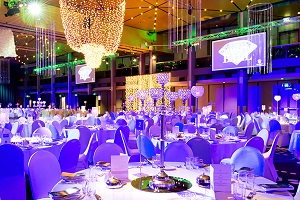 Jano Dawes – Director – Taurus
After installing events for over 25 years it is hard to choose just one… From recent events, my favourite would be the Somerville House Diamond Ball.  I designed huge, bud-lit chandeliers for this event and until the day of the install at the Brisbane Convention and Exhibition Centre, it was hard to see in my mind's eye exactly how spectacular they would be.  The room looked amazing and my client was thrilled.  Best of all, it was my daughter Zoe's Year 12 Ball and she chose the theme – she loved it!
---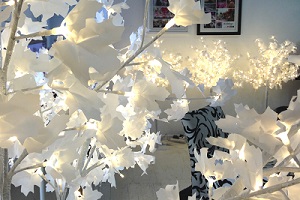 Melissa Harwood – PA – Gemini
My favourite props are the white maple trees. I love the white colour & lights together. They look so fresh & bright and give off a relaxing, warm glow. Grouped together en masse they look amazing.
---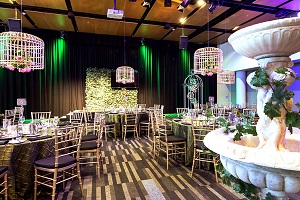 Hayley Drinan – Events Stylist – Taurus
36th Australian Dental Conference Luncheon: The client wanted to transform the room into a secret garden to create a mystical setting for their luncheon. It was great to bring the outside in! My favourite elements were the garden fountain, suspended bamboo basket floral centrepieces, and gold Tiffany chairs. Most importantly, our client was extremely happy with the look!
---
Jacinta Mastroianni – Props Stylist – Scorpio
Our custom pallet bars are fun, functional and versatile. They work in a range of styling: earthy rustic and vintage, but they also look great softened down with vintage floral and pastel colours.
---
Sarah Lawrence – VM Assistant – Aries
My favourite set up was the Spring Vintage Market at Indooroopilly. Rustic bars, floral fabric, vintage peacock chairs, moss and fresh flowers – all my favourites!
---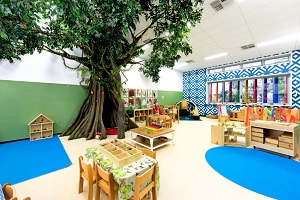 Heather Davern – Designer Christmas and VM – Leo
My favourite custom designed project in recent years was at Mother Duck Day Care Centre at Wynnum. The architect of this flagship centre achieved an exceptional level of design, both aesthetically and functionally so it was a pleasure to extend this further with bespoke themed elements throughout. We designed and installed custom wallpapers, hot air balloon light fittings and indoor play areas – all created specifically for children aged up to 5 years.
---
Clio Hancock – Digital Artist – Aries
My favourite TPH job would have to be the Christmas install in Queen St Mall. This job will always be a favourite of mine because it was the first time I had ever been involved with a project of that scale. It was extremely rewarding after so much hard work and anticipation to hear that we had successfully won the tender. The end result was amazing!
---
Krishna Stockdale – Operations – Leo
My favourite event was the opening of The Charter Hall Building at Gasworks because it was an exciting and unusual space to work within and it helped create an amazing atmosphere.
---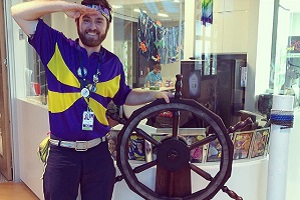 Russ Groundstroem – Logistics – Cancer
Favourite Prop.  The ship's wheel.  It looks good and it's functional (a bit like me), and is one of the first things I made at The Prop House. We recently installed it into the Starlight Express room and the kids in there loved it. I dare anyone to walk past it and not want to give it a spin.
---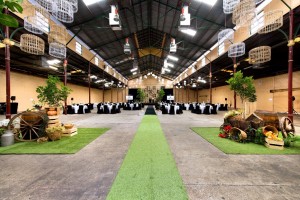 Arjuna Serini-Sorenson – Operations Manager – Cancer
The Lend Lease event at the John Reid Pavilion at RNA involved a simple concept with wooden pallets to make a stunning feature wall. It is always nice to build something out of a simple every day product.